Marketing for Hippies 101: How to Grow Your Green, Local and Holistic Business – Workshop Registration
 —
Can't make it? Check out: Marketing for Hippies Video and Workbook
—
This is a pay-what-you-can, day-long workshop where you can learn the marketing secrets of North America's most successful green, holistic, community-minded entrepreneurs to attract more of the clients you want (without ever sacrificing your integrity or spending a fortune). 
Marketing can feel good.
That's the premise of this workshop.
Since 2001, I have traveled around working with conscious entrepreneurs just like you. Some successful, others struggling. And I've gathered quite the assortment of success stories and strategies right from the horses' mouths.
This workshop is my best distillation and collection of those practices and stories.
My name is Tad Hargrave and I want to invite you to come and join us for this day-long workshop.
—
PRICE: $25 CAD (or £15 GBP) deposit + Pay What You Want at the End.

 
***Scroll down to the bottom of this page for the sales buttons***
What does this mean? You pay $25 CAD (£15 GBP) to secure your spot. And then you get to enjoy the workshop and, at the very end, you can pay me whatever you'd like to pay. Were I to charge full price you'd pay $200 CAD (£115 GBP) for this workshop but I also want to keep it accessible to those who can't afford that amount. Plus, the workshop might be more valuable to some than others and why should you both pay the same amount? It's an honest-to-goodness, decide-at-the-end, no funny business, pay-what-you-can/want deal. Please note: If even the $25 CAD (£15 GBP) deposit is too much, please let us know. No one will be turned away due to lack of funds.
OR: I've made an option for you to pay 3 installments of $67 CAD (£39 GBP). If you'd like to pay the full market value of this workshop but want to spread those payments out, choose the 3-pay option! You'll be charged $67 CAD (£39 GBP) now, and then you'll receive an invoice from my PayPal account for 2 more payments of $67 CAD (£39 GBP) in each of the following two months.
OR: I've also added the option to simply pay a flat $200 CAD (£115 GBP) market value fee for the workshop upfront. If that feels good and convenient for you, please choose this option. It's something that's been requested a number of times so I'm trying it out, but either way is fine by me.
—
This is a day-long, content-rich, roll-up your sleeves, nuts and bolts workshop. It's all about how you can grow your business and attract all of the right kinds of clients.
In general, here's who this workshop is for:
Perhaps you are selling a natural, eco-friendly, cruelty-free or otherwise healthy product.
Or maybe you're in the Healing Arts or a Holistic Practitioner? Perhaps you're a Therapist, Massage Therapist or Body-worker, Yoga Instructor, Herbalist, Shamanic Practitioner, Life-Coach, Meditation Teacher etc.
Are you a local business owner who just plain cares deeply about your community, nature and social justice? Maybe you run a Yoga Studio, Eco-Friendly House Cleaning company, an Organic Farm, a local Theatre Company, a Fitness Studio, a comfy, little locally owned Bookstore, a groovy local Restaurant, an Eco-Store, a Pottery shop or a Natural Health-Food Stores etc.
Or you might be running some sort of permaculture-based business.
At its heart, this workshop is all about exploring the question:

"How can you sell your products and services without selling your soul?"
Too much marketing (even by savvy, conscious entrepreneurs) creates either no response or seems "over-hyped" and triggers a "used car salesman" reaction.
So . . .
How do you market your products without compromising your principles? How can you make sure your marketing gets a positive response and creates warm feelings of trust? Better yet – how do you have your ideal client approaching you, instead of you chasing them? 

While mingling with like-minded peers, you'll learn:

 
The core reason why most marketing feels bad (and exactly how to make sure that your marketing avoids it).

The only three kinds of potential clients you will ever meet, and the exact approach you need to take with each of them.

The Three Roles of Marketing (everything you ever do in marketing from posters, to talks to Facebook ads must do these three things)

The Three Keys to Successful Word of Mouth Marketing

Why you need to filter in your marketing (and the three levels of this)

How to make it safer for your ideal clients to approach you so that they just call you and say, "I'd like to buy from you" with zero selling or convincing on your end.

The Three Core Elements of Your Marketing Strategy – Niche, Paths and Container.

The Core Elements of Your Niche that you need to attract more – and better – clients, with absolutely zero budget. Most people only think about one of these and I could name seven of them.
Important Info About The Structure of This Workshop: 
This is not what you'd call an "interactive workshop" full of experiential exercises, journalling, pair-and-shares, small and large group discussions, visualizations, and meditations. Those workshops are wonderful, but this isn't one of them. It's mostly me sharing my point of view about marketing and you taking notes if something strikes you.

This workshop is content dense and it's designed that way. This day is not designed to have you leave with something done. It's designed to help guide you to a place where you understand both how and why marketing can feel good. It's a modest but important goal and I feel confident this day-long workshop can and will get you there.

Having said that, there's plenty of time for Q&A. We take 15 minute breaks in the morning and the afternoon, and lunch is 90 minutes. I tell good jokes throughout the workshop and there are dozens of great stories that make it easy to follow. It's a full day.

There are many other goals to be achieved in the implementing and translating of this material to your own business — some of which I can help you with and some that I can't. This workshop day is focused entirely on that central question of how you can craft marketing that feels good (to you and the people receiving it) and is effective (gets you clients).
FAQ's:
Can you share more about the content and what will happen during the day? Not really. You'll be getting a 30,000 foot view on marketing – why it often feels bad and how, in very practical terms, it can be made to feel good. You will be hearing dozens and dozens of real life stories of entrepreneurs like you who found a way to thread the needle between what works and what feels good to stitch them into something amazing. We will be coming to this same question of "How can marketing feel good and be effective?" from many different angles, over and over. You'll be learning the distillation of what I've learned since this all began in 2002 or so.
Will I learn how to engage people with social media? A little bit. But for more help I'd go here.
Will I learn how to create a good website? No. You'll learn some of the fundaments of a good homepage but this is a bigger topic than we can fit into this day. You will, however, learn a lot about niching and point of view. And that's vital. Without that there is no such thing as a good website.
Will I learn how to produce eye catching flyers? No. But, again, an eye catching flyer is less about the images and more about the words. Where do the words come from? Clarity around your niche.
What about business cards? Sometimes I talk about this and sometimes I don't. A lot of marketers have a lot of opinions about this. Feel free to ask me at the workshop if you come.
So I won't be learning any practical things? You'll learn a lot of practical things but people utterly put the cart before the horse on this. They think the right business card, flyer, website and social media tactics will get them clients. But… which clients do you want? Can you even articulate what it is that you do yet in a way that people get it immediately? There are so many foundation stones that need to be properly laid down before we get into the details of your particular marketing materials. Without those fundamentals in place your materials will be generic and largely useless. With them? They will stand out. This day is, at it says, a 101 level. I can tell you that what I share in these workshops is new information for at least 90% of those who come. They are thoughts they've never had and never heard anywhere else.
What to Bring:

 
Money: your cheque book, cash or credit card (I am also happy to accept a promissory note from you so you can pay me via PayPal when you get home).
A reminder about cell phones:
Please remember to put your phone on silent or even turn it right off. I encourage you to make the effort to really be present in the room and at the workshop. There will be a nice long lunch break and a couple of stretch breaks to check for updates if you need to! 
What does the day look like?
10am-1pm – workshop

1-2:30pm – lunch break

2:30-6pm – workshop
What if I can't make it but I've already registered?
Your deposit is refundable until one week (seven days) before the date of the workshop you plan to attend. Just drop us a line if you need to cancel – though we hope you don't! If it's within seven days of the workshop, your deposit is non-refundable, but we'd still appreciate a heads-up if you can't come so we aren't expecting you.
What if I have to leave early or arrive late? 
When you register, I am trusting that you understand that attending the entire day of the workshop is important, that coming late and leaving early has an impact on the group and the facilitator. Coming for part of the workshop takes a space away from someone who could have been there the whole time. If you absolutely have to leave early, please make sure Tad knows as soon as possible.
So, that's it. If you have any questions, feel free to email me at admin@marketingforhippies.com otherwise I hope to see you there.
Warmest,
Tad Hargrave
founder, marketingforhippies.com, nichingspiral.com
PS: BONUS! When you register for one of these workshops you'll get a copy of my new book How to Start, which sells for $20 USD in my online shop. This book is a practical and refreshing, seven-step workbook to use when marketing feels gross and awkward (you can do it all in one lazy, rainy afternoon and you'll use it for the rest of the life of your business).
How to Start is a tiny workbook about a little idea that could make a big difference in every piece of marketing you ever do from here on. Here's the little idea: what if you made the heart of your marketing strategy about how your marketing feels to you and others?
---
Secure your spot today, choose your registration option below:
NOTE: The Edinburgh workshop on October 30th will be held at the Edinburgh Quaker Meeting House, full details will be provided upon registration. 
[wp_eStore_buy_now_fancy id=148]
[wp_eStore_buy_now_fancy id=149]
[wp_eStore_buy_now_fancy id=150]
---
NOTE! If you can't come to the October 30th workshop but would like to know about future workshops in Edinburgh, please sigh up for my e-list HERE and you'll be the first to know when I plan to return.
---
—
About Tad Hargrave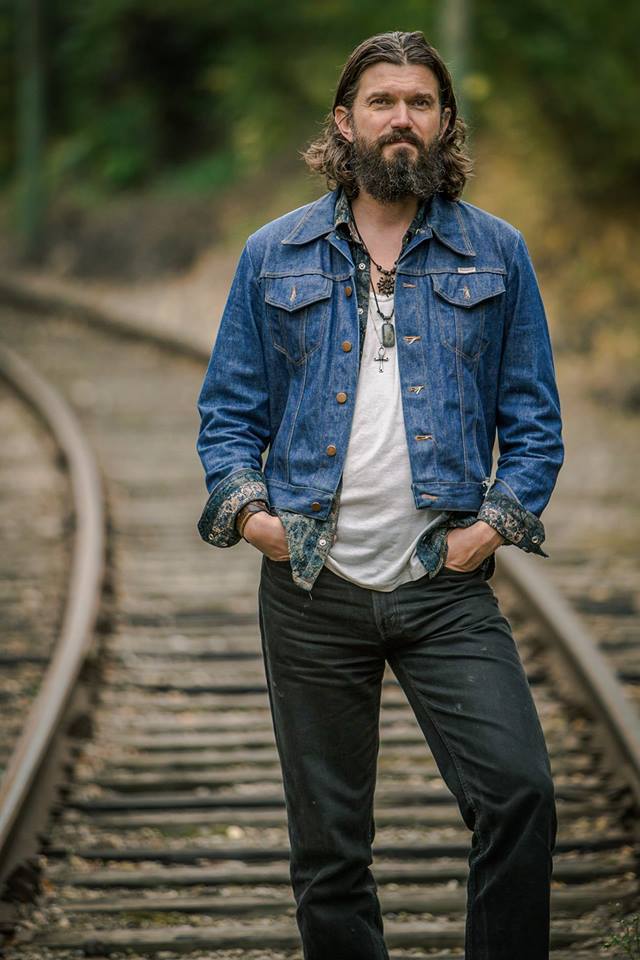 Tad is a hippy who developed a knack for marketing (and then learned how to be a hippy again.) For almost a decade, he has been touring his marketing workshops around Canada, bringing refreshing and unorthodox ideas to conscious entrepreneurs and green businesses that help them grow their organizations and businesses (without selling their souls). 
He does improv comedy semi-professionally, co-runs Edmonton's progressive community building network TheLocalGood.ca, founded streetcarshows.com, indigodrinks.ca, socialyogiyeg.com, and the Jams program of yesworld.org. He speaks Scottish Gaelic and helps to run novascotiagaelsjam.com and is also a huge Doctor Who nerd. 
Tad currently lives in Edmonton, Alberta (traditionally known, in the local indigenous language of the Cree, as Amiskwaciy (Beaver Hill) and later Amiskwaciwaskihegan (Beaver Hill House) and his ancestors come primarily from Scotland with some from the Ukraine as well. He is drawn to conversations around politics, history, ancestry, healing and how those all intersect.
You can learn more about Tad and his work at marketingforhippies.com and nichingspiral.com
---
Testimonials from Past Marketing for Hippies Daylong Workshops:
"Thanks so much Tad for your amazing wisdom, delivered using brilliant stories that really brought your message to life. What a brilliant entertainer you are – I could listen to you all day! I'm still on a high from this workshop and the takeaways I've got from it – I'm going to be honing my Point of View and definitely seeking rejection so that my best clients can have an amazing experience with me (and tell their friends), which is a win:win for everyone! Thank you for being you. I'm already looking forward to your next visit!"
– Ann Brown
*
"Attending Tad's event was less of a marketing lesson and more of a philosophy on life! Well of course it was both, but what I'm trying to say is it was the perfect mix of great humour, community spirit, golden marketing info that feels good and works. The teaching also tied in to some other major life areas for me.
I am still riding high from this workshop and completely upgrading my business using the tools that I learned! Thank you so much!"
– Jennifer Anne Cain
*
"Worth a trek for! Well chosen venue and words. Great to share space with all the other hippies trying to figure out how to de-schtick the slimey feelings from self-representation. I had a really warm and buzzy feeling heading back home . . . definitely the result of consecutive hours in a humour-infused and lively simmering down of Marketing and Self-Promotion to digestible images and practical tools.
It's really important that such an event happens outside London! Thanks Tad for your travels to share what you've learned."
– Jennifer-Lynn Crawford
*
"An excellent workshop. In a world of cheap trick, manipulative marketing it's great to find a marketing path with heart and integrity.
The day elegantly synthesised all the different aspects of your work into a coherent whole in a way that is much more powerful than reading an ebook or watching short videos. I feel encouraged and inspired to get on with honestly representing what I have to offer to the world. Great stuff, thank you."
– Andy Hunt
*
"Just wanted to extend many thanks for the workshop. Tad, you make a topic that often seems complicated and overwhelming very simple. I never thought I'd ever be able to market my business in a way that feels so genuine, generous and honest and earn a living at the same time. You are empowering the healers and helpers of this world, and for that I'm deeply grateful. Thanks so much!"
– Kelly Meisak
*
"Motivating, encouraging, manageable and outstanding. Incredible knowledge and delivery of the subject matter. This has been an invaluable workshop! Highly recommended. Thank you."
– Lucie Bradley
*
"I got so much more out of the day than I could have imagined beforehand, I clearly didn't know how much I didn't know! Feeling inspired and excited and wishing for an extra month in my year to begin to put it all into practice. Thank you Tad!"
– Kristine Mackenzie-Janson